Improving Accessibility: 5 Tips to Make Your Rental Units More Accessible
By: Katie Kirker, Writer, Rick Hansen Foundation
*This article was originally published in the spring 2022 edition of The Key magazine.
Looking for affordable housing is a daunting task for anyone – Kyla McCaig faces the additional challenge of finding a home in an accessible community that is suitable for her family of six. Kyla is blind, and it has proven difficult for her to find adequate housing, including landlords willing to accept her guide dog as an essential part of her life.
Rental housing in British Columbia is hard to come by, particularly in metropolitan areas such as Vancouver. The rental market in Vancouver tightened in 2021 with purpose-built rental apartment vacancy rates decreasing from 2.6% in 2020 to 1.2% in 2021, causing demand to outgrow supply in the Vancouver area because of the return of students and migration, according to Canada Mortgage and Housing Corporation (CMHC).
Finding a unit that is accessible is even more difficult. According to the City of Vancouver, in 2017 there were only 1,186 accessible non-market housing units. With 1 in 5 Canadians having a disability, this is not nearly enough to meet the demand.  When you consider friends, families, and caregivers, the lack of accessible housing will impact nearly every resident in the city.
"Having affordable housing in an accessible neighbourhood is really important because otherwise we're left isolated and relying on other people which doesn't feel great," Kyla said.
As a landlord, there are steps you can take to help make your building more accessible to all renters, increasing the number of people that could rent from you. This includes anyone that could live in a rental unit – children, adults, seniors, and people with temporary and permanent, among others. Here, we share five suggestions with you.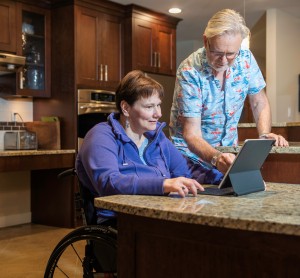 CONTRAST
Paint is a relatively inexpensive option to improve navigation for those with a disability. An example would be painting doorways within an apartment a contrasting colour to the surroundings, which helps individuals navigate within their own apartment. This can also be done in common areas of a building.
"Contrasting colours should be considered for any area where a fall might occur, such as a pathway into a building, or any path of travel where there is any kind of drop off or uneven edge, even if it is minor" says Hans Uli Egger, Accessibility Certification Specialist & Adjudicator, with the Rick Hansen Foundation Accessibility Certification™ (RHFAC) program.
Many buildings may have an entryway that has a fully glazed doorway, often making it hard to identify a potential safety hazard. To remedy this, high contrast decals mounted at two heights on the door for people of different statures enables people who are new to the site or have partial or low vision to not walk into a glass doorway.
ENTRYWAYS
For individuals who use a mobility device or who have a vision disability, stairways can create a hazard.
If there are areas that are only accessible by stairs, which is particularly common in basement units in Vancouver, the addition of a ramp will help people with a mobility disability to access the main entrance, unit entryway, outdoor space, or other public space.
Egger explained that having an accessible entrance would "include a power operated door with an easy to reach control button, and installed away from the door swing. Doors should also be colour contrasted to the surroundings for them to be easier identified and located for people who have partial sight, or are new to the site."
Similarly, any mats or runners used in public areas of the building should be thin to maintain having a level floor or have a lightly beveled edge to avoid creating a tripping hazard.
LIGHT
High quality lighting can provide a relatively inexpensive way to improve accessibility and is easy to implement. Ensuring all hallways and common areas within a building are bright enough to illuminate any changes in flooring or areas where people perform tasks can help individuals with vision disabilities or who use a mobility device to use the living space more functionally.
Within a unit, implementing task lighting, which focuses light to brighten a specific area, can help the functionality of a rental unit. Additionally, installing flat panel light switches makes it easier to turn lights on and off.
Lighting common areas can make it easier for individuals who have a hearing disability to interact with the landlord, neighbours or any visitors to the building to aid in lip reading and understanding sign language, and can also help people with low vision navigate properly.
VISUAL FIRE ALARMS
Many older buildings have audio fire alarms yet these are not useful for someone who is Deaf. Installing visual fire alarms will ensure all building users, including people who are Deaf or hard of hearing, are alerted to an emergency situation.
According to the Canadian Hearing Society (CHS), a visual smoke alarm incorporates a visual component, such as a strobe light, in addition to an audible alarm, when smoke is detected in the home. Hardwired ones are available, however, CHS says that portable options are less costly, and can effectively alert those with hearing disabilities to be able to see the alarm in an emergency.
DOOR HANDLES
Another option to improve accessibility in a building and within units is to add lever style door handles on doorways. Lever style handles are easier to use with one closed fist and don't require a twisting motion. Switching out door handles can increase the ease with which many individuals can navigate and functionally use the rental unit and building. This is also important for public areas in a building such as a mail or laundry room.
Improving accessibility in rental housing does not have to be costly, and can improve the functionality of the rental unit and the building immensely. By improving access to your unit and all common amenities available, increasingly more people can rent and functionally use the space.
The Rick Hansen Foundation Accessibility Certification (RHFAC) can help landlords and building owners understand their current level of accessibility and identify areas for improvement. To learn more, visit RickHansen.com/RHFAC